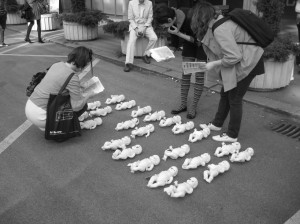 Projekt-Lead/Project manager: Ulrike Möntmann
Team/Team: Nina Glockner, Elke Bippus
THIS BABY DOLL WILL BE A JUNKIE [TBDWBAJ] ist ein audio-visuelles Porträt von in Europa lebenden, drogenabhängigen Frauen. Das Material, das in der Form einer Outcast-Registration 
inventarisiert wurde, ist eine außerordentlich umfangreiche und einzigartige Datensammlung. Es bietet die Gelegenheit, die Randgruppe, die juristisch und gesellschaftlich als eine vernachlässigbare Erscheinung kategorisiert wird, zu entschlüsseln 
und gesellschaftlich innerhalb der Möglichkeiten menschlichen Daseins zu integrieren.
Sa, 21. 12. 2013, 16 Uhr
Wem gehört der öffentliche Raum? Eine Wiener Begehung
Kuratorenführung mit Peter Hörburger und Charly Morr
Während der Ausstellungsperiode werden die Forschungen des Projekts THIS BABY DOLL WILL BE A JUNKIE in Form der Komplizinnentreffen vor Ort, d.h. in der Ausstellungsinstallation, weitergeführt. Die Komplizinnentreffen sind ein Format, das die Künstlerin für die Reflexion und interdisziplinäre Diskursivierung ihrer künstlerischen Forschungen von 2004–2010 entwickelt hat. Bei den Treffen werden Wissenschaftlerinnen und Künstlerinnen spezifische Fragestellungen in Relation zu ihren Wissenspraktiken und Erkenntnisinteressen diskutieren.
—
THIS BABY DOLL WILL BE A JUNKIE [TBDWBAJ] is an audio-visual portrait of drug-addicted women living in Europe. The material, which has been inventorised in the form of an outcast registration, represents an extraordinarily extensive and unique collection of data. It offers an opportunity to decode and socially integrate this marginalised group – categorised by law and society as a negligible symptom – in the framework of human existence.
Sat., Dec. 21, 2013, 4:00 pm
Who Does Public Space Belong To? A Vienna Inspection
Curator tour with Peter Hörburger and Charly Morr
During the course of the exhibition, the research in the project THIS BABY DOLL WILL BE A JUNKIE will continue on site in the exhibition installation in the form of an accomplice meeting. An accomplice meeting is a format that the artist developed for reflection and interdisciplinary discourse around her artistic research between 2004 and 2010. At the meeting female scientists and artists discuss specific issues in relation to their scientific practices and research interests.